This is the latest in our ongoing series of articles about former students of New Town High School, Hobart Technical High School and Hobart Junior Technical College.
In this edition, we feature the late Max Angus AM.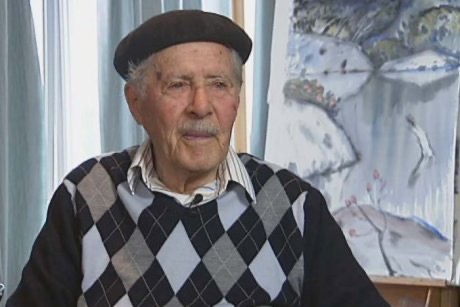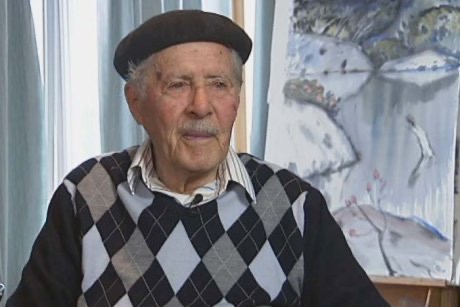 A prominent Australian artist, best known for his watercolour paintings of Tasmanian landscapes, Mr Angus passed away in February 2017, aged 102. It is a shame that he missed out on the School's Centenary Year, as he would otherwise have been one of the few former students older than the School itself.
Born in Hobart in 1914, Mr Angus studied art at Hobart Junior Technical College in 1931, and later went to work as a sign writer.
This post has been reproduced from an article written by Max and presented to the Tasmanian Historical Research Society in 2005.
The story, as presented, is a fairly lengthy read as one would expect it to be, given the long, distinguished and interesting life that Mr Angus led.
Here's a link to the full story. We've also selected some paragraphs from the original document which contain historical references to the school and some school identities.
Read on, we hope you enjoy this feature.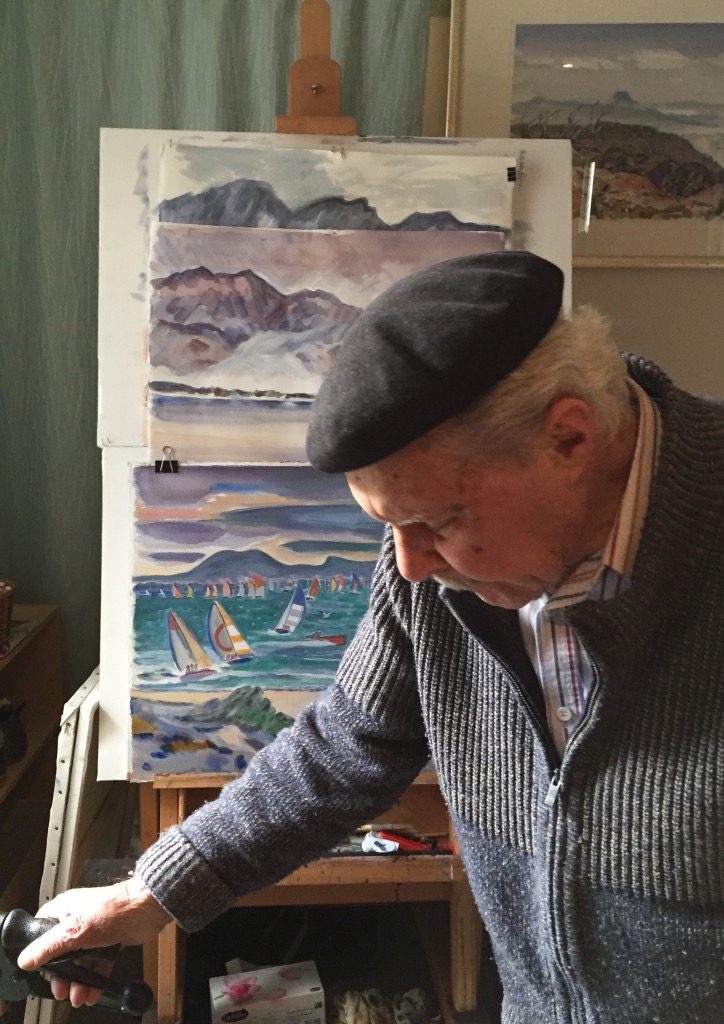 footnote: It is interesting to note references to Mr Lucien Dechaineaux, the Head of the College's Art Department while Mr Angus was a student.
Dechaineaux is of course one of the four Houses of New Town High School, so it may be that future articles could feature the Houses, particularly the history and contributions of the people for whom they're named.
If anyone would like to contribute to such articles, we'd be very pleased to hear from you.
MY TASMANIAN LIFE
Max Angus
(This paper was delivered to a THRA meeting on 8 February 2005.)
After several false starts on this autobiographical sketch, I decided to follow Dylan Thomas in his introduction to Under Milk Wood: 'To begin at the beginning … '
I was born on 30 October. 19 l 4, just weeks after the death of William Charles Piguenit. the first Tasmanian-born painter to achieve national acclaim. When I was a child, my father took me ·to the Art Gallery in Hobart to see Piguenit's huge canvas, The Hawkesbury-early morning. My father was a painter of a different kind: a tradesman, expert in house-painting. paper-hanging and interior decorating. He encouraged his three sons to draw and gave us largish remnants of wall-paper. left over from various jobs, for us to use the reverse side for drawing in pastel and pencil. Two of us became immediately addicted (for life, as it turned out). Our youngest brother escaped, to become a successful business man. Then I was enrolled at Albuera Street Infant School. I had, during infancy. drawn freely and naturally with my left hand. When I reached First Primer, and began to write, I was told that I must write with my right hand. My teacher made a tube from an exercise book and shoved it up my left forearm, to prevent me from writing with my left hand. Miss Ida Quigley, our Art teacher. allowed me to draw with my left hand. My class teacher did not object, presumably regarding drawing as relatively unimportant; so here I am today, writing exclusively with my right hand, and drawing or painting with my left.
As I rose through the grades. it became clear that in many subjects I was only fair to average. I looked forward to writing an occasional essay, but arithmetic bored me. On reaching fifth class we were reminded that the dreaded qualifying exam would need to be passed at the end of the year if we wished to go on to three years of secondary education. We needed all the help we could get. It came, in the form of the most dynamic, engaging. enthusiastic and brilliant man. He was Ron Bartram. His ability to impart his love of music, speech, and the arts was astonishing. He saw my drawings, and those of my brother Don, then in fourth class, and entered us in a competition for a poster announcing the 'Made in Tasmania' exhibition at the City Hall. Open to all schools, it carried a first prize of £2 and second prize of £1. We won both prizes.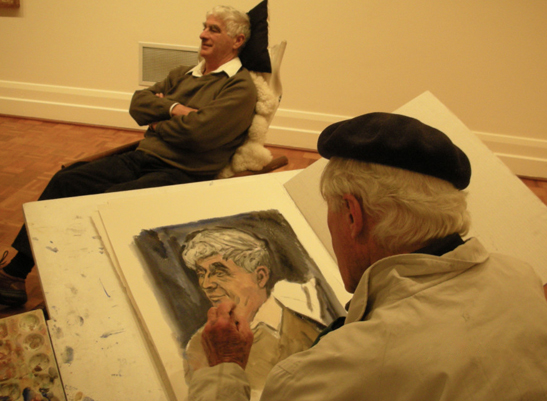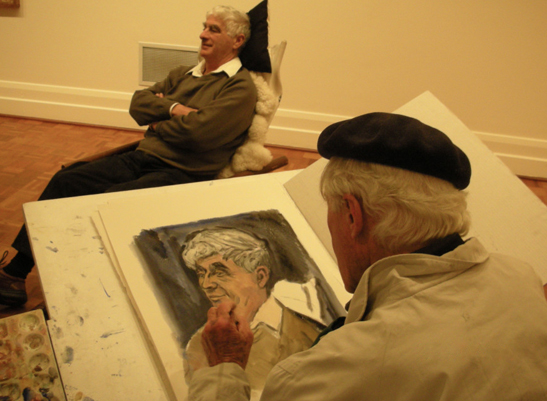 On passing the Qualifying Examination, I could then choose between the Hobart State High School and the Hobart Junior Technical School. My father consulted Mr George Limb. Headmaster at Campbell Street State School. His advice was simple: 'Mr Angus, we are heading for a terrible economic depression. White-collar workers will lose their jobs in thousands. Enrol your son at the Technical School, where he may learn something more practical'.
I was duly enrolled at the Technical School. Thrown into the maelstrom of the school's curriculum, I lived in dread of classes in Algebra. Trigonometry. Physics and Maths, but remember my joy in Art classes, Building Drawing. English and Geometry. Sheet-metalwork and Carpentry I barely managed.
Somehow, I got through that first year, chastened, but glad to be at that school. After the exams, my Headmaster, Mr Robert Hudspeth, called me to his office. My examination results lay on his desk. He smiled, and noted that my results for Algebra, Trigonometry, and Maths held little promise. Carpentry and Sheet-metal work were only fair. My marks for Art were a different matter. He asked me if I hoped to become an artist. I told him that I did. He then asked me if I would like to attend Art classes in the Senior School during the periods normally allowed to Carpentry and Sheet-metal work. I was in a daze of disbelief and gratitude.
Next day, I appeared in the locker-room of the Senior Art School surrounded by a number of young women, towering above me, full of confidence and viewing me with astonishment. One, obviously upset, said. 'Where did this little brat come from?' I didn't care. I had been chosen from more than six hundred boys to attend Art classes in the Senior School. It was then that I met Mr Lucien Dechaineux, the tall. dignified, Belgian- born Principal of the College, Head of the Art Department: painter. sculptor, architect and lecturer.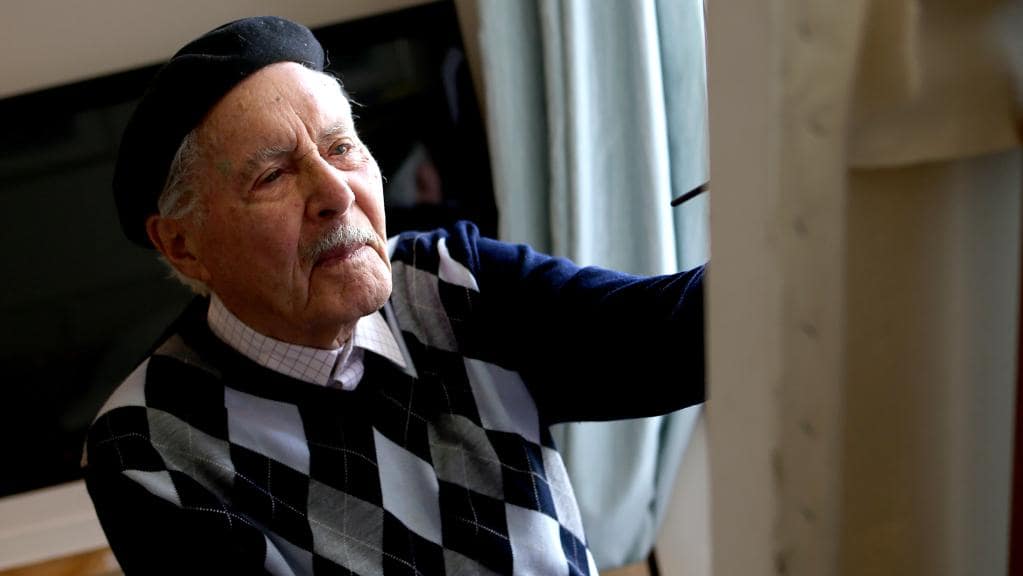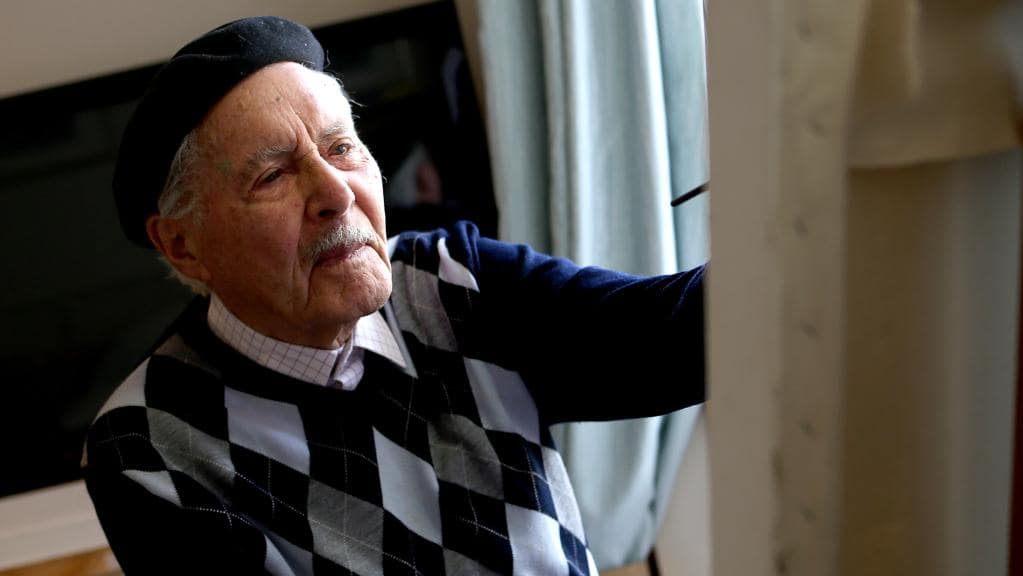 I was not to know, then, how hard he had fought to establish an Art School within the College. It is hard to believe today. but he had great difficulty in persuading the Education Department that a nude model was needed for classes in Life Drawing. Some parents were also outraged. Victorian and Edwardian Hobart was hardly ready for this assault on its finer sensibilities. Dechaineux won the day, (and the night, as male students, unable to attend any day classes because they had day jobs of their own, rolled up in numbers at night, to draw from the nude model).
Almost two years later Mr Hudspeth again called me to his office. A commercial artist, J. Barry Laurance, had approached him, looking for a boy who had done well at Art, to enter his employ. Mr Hudspeth strongly advised me to take the job, as unemployment was rising. So, here I was, exactly fourteen, working with a first-rate commercial artist on a salary of thirteen shillings a week. It was not to last. The great Wall Street crash, unprecedented bankruptcies and suicides, changed the world. Mr Laurance could no longer pay my wages. I was on the street, out of work, at fourteen. My father acted quickly. On 1 January 1929, I was indentured for a five-year apprenticeship to a signwriting and display firm. J. J. Harrington. This business was in the heart of Hobart, off Elizabeth Street, reached by a lane and a wooden bridge, that crossed the Hobart Rivulet. The old, convict-built workshop was on a site now named Wellington Square, at the rear of the Argyle Street Carpark. We did almost everything that brush and pen could manage: posters, show-cards, smart displays, an occasional newspaper illustration, roof-signs, wall-signs. street signs, sale signs; discreet gold leaf letters on shop windows or a solicitor's entrance door; signs on veranda fascias for shops of all kinds.
I have said that Lucien Dechaineux when I first studied with him, had worked very hard to introduce Art into Technical Education. A generation later I returned to the same Art Department to study with Jack Carington Smith. He was already chafing under what he saw as Dechaineux's Art Curriculum: 'too technical in its approach'. He wanted a separate Art School, away from the Technical College. I have already mentioned that I was, a few years later, on a committee to help bring this about. I was to see much more. In keeping with established practice in Western countries, Contemporary Art took centre stage. In fairly rapid succession the Tasmanian School of Art went first to the TAFE College, then to the University of Tasmania. It now resides in the Hunter Street Centre for the Arts Building, surely one of the world's most spectacular sites for an Art Schooi. Geoff Parr, originally from New South Wales, worked with Dechaineux-like zeal to establish this great centre, but with entirely different ends in view. Or is it, in the end, so very different? Both men built their schools around the technology of their rimes. Jack Carington Smith cared only for painting: he was neither theorist or zealot
I have, as noted. never wanted to teach art full-time, nor have I the gift that leads to the art of administration but I have been, for the past eighteen years. annually, tutor at John Traynor's Suncoast 'Artventure' Art School at St Helen's: twenty to twenty-five students from all States for two weeks. I do not lay down a course. I try to help my students according to what I believe their individual personalities suggest might be applicable. Slow? Yes! Fruitful? They have found it so, some having been to all my schools down the years.
ADDENDUM
A ninety-year life told in a few thousand words will necessarily be full of holes and omissions but, I hope, not inconsistencies. l write in a linear style. not given to a density of prose, Brevity is customary for me. Some might think it strange. for example, that I have not mentioned my last book A Salute T0 Watercolour'. I felt that the two I have reviewed in some detail were enough in this short essay.
While my books totalled a decade of work, I still painted regularly during this period. I have had more than sixty solo exhibitions, and have taken part in countless group shows, both in Tasmania and interstate. My CV records that I am represented in a number of State and regional galleries, the CommonweaJth Collection, and the University of Tasmania. I was honoured with a retrospective exhibition ('Forty Years of Painting') at the University in 1978, and again in 1988 as part of the Australian Bi- centennial celebrations. (I won the City of Hobart Art Prize that same year) The Freeman Gallery in Hobart also staged a series of large exhibitions of my work during this period. In 1978 I was made a Member of the Order of Australia for services to art and the community, and elected a Fellow of the Royal Society for the Arts (London) in 1987.
I have been luckier than most, always supported by my family, colleagues and friends in a life that has been so full of interest and satisfaction.
I thank Dr Michael Roe and the Committee of the Tasmanian Historical Research Society for inviting me to present my thoughts on 'My Tasmanian Life'.